We have spent 10 lovely days in May 2015 in marvelous Norway being the lucky winners of the scholarship advertised by the Soroptimist Union from Norway.
Being members only for a few years at the Budapest Soroptimit Club we have been quite excited before starting our trip. For us this was the first occasion to experience how this wonderful international organization operates in other countries.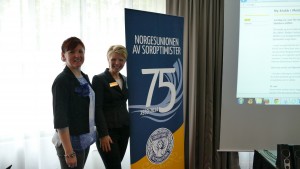 The Soroptimist belief has a long historical past in Norway and also the union was celebrating its 75th birthday with many thousands of club members striving to improve women lives all around the country.
We felt we were extremely lucky to gain this opportunity through the scholarship – that is advertised every second year – to be able to learn more about this wonderful country
Through the 10 days spent in Norway we travelled across the south-west region of the country, in Rogaland county. We have been accommodated by five different clubs so in most of our time we were experimenting new things, and wandering from one place to another.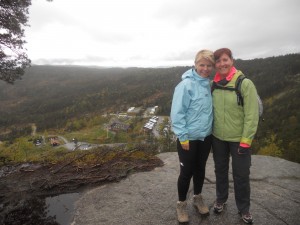 We had a fantastic and adventurous program. In every club we could meet the members, could learn about local specialties and could experience the wonderful home-hospitability. During the long discussions we learned about how the club meetings are being held, what the actual projects are and how does the club raise funds for these projects.
Besides learning about the club life we also visited a lot of local scenic attractions. It was exciting to climb to the breathtaking viewing platform, Preikestolen, seeing the fiords, walking on the beach and meeting the Viking culture.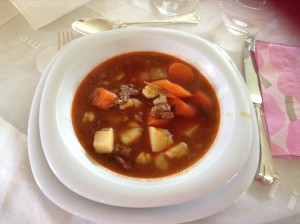 We were happy not only to receive but also to give experience to our hosts. In one of the clubs we had the opportunity to invite the club members to a Hungarian gastronomic adventure. We cooked Goulash soup and Hungarian "csirke paprikás" (chicken stew) that was appreciated very much and everybody enjoyed the new tastes.
The last few days we have spent in Stavanger where we participated on the yearly general meeting of the Norway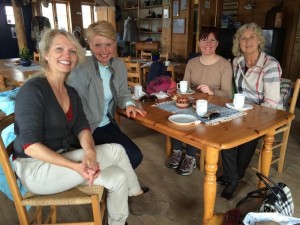 Soroptimist Union. With our presentations we could introduce the Hungarian Soroptimist club life as well as our country. It was beneficial for us to have a glance in the life of the Soroptimism in Norway, get acquainted with their project works, the problems they face and their goals for the future.
We gained a lot of experience that we can share and can benefit from in our club in the future. Nevertheless we also could strengthen existing and expand our international relationships by meeting our Norwegian friends.
Krisztina Merényi &Viktória Varga